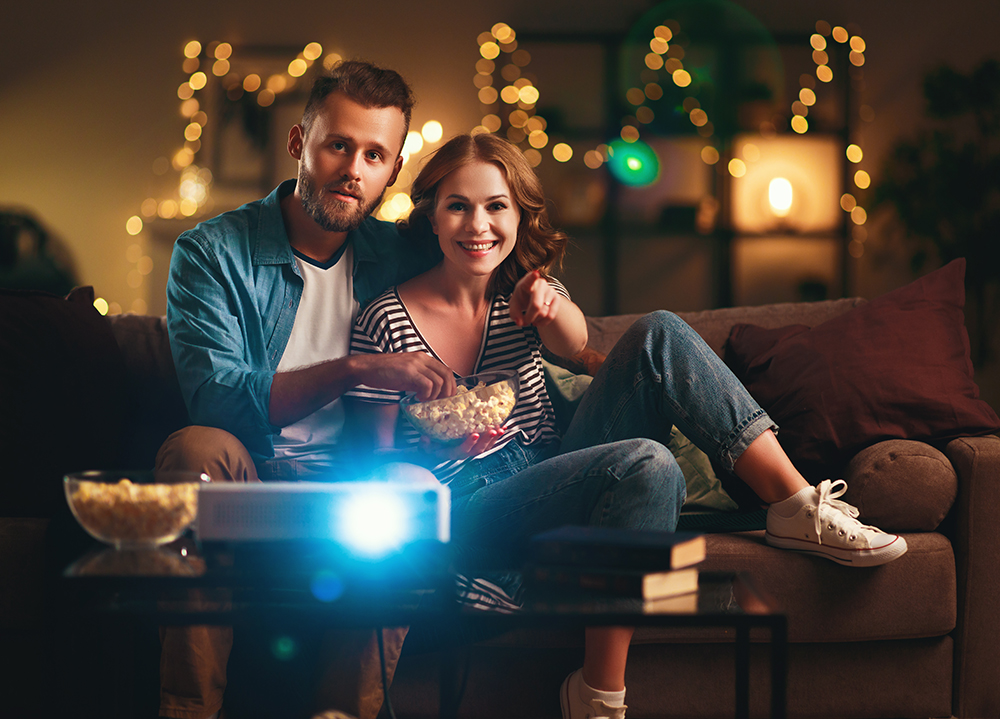 Have a Romantic Movie Marathon this Valentine's Day! (Bigstock)
Valentine's Day is synonymous with long-stem red roses, delicious chocolates, cheesy cards, and expensive gifts but what if we told you you don't need any of those things to have an amazing Valentine's. Consider avoiding the red balloons and cupid themed plush toys and settle for a Romantic Movie Marathon instead!
Cuddle up with your loved one, grab your gal pals (hello Galentine's Day) or get cosy under a snuggly blanket. Dim the lights, grab the popcorn and get ready to step into the world of love.
Whatever your movie preference be sure to make time to fit one, two or even a whole night of movie magic.
Not sure what to watch? We have a few recommendations which may help.
See our top 14 Valentine's Day Movies (listed in Alphabetical order).
10 Things I Hate About You
On the first day at his new school, Cameron (Joseph Gordon-Levitt) instantly falls for Bianca (Larisa Oleynik), the gorgeous girl of his dreams. The only problem is that Bianca is forbidden to date... until her ill-tempered, completely un-dateable older sister Kat (Julia Stiles) goes out too!
In an attempt to solve his problem, Cameron singles out the only guy who could possibly be a match for Kat: a mysterious bad-boy (Heath Ledger) with a nasty reputation of his own!
---
50 First Dates
Henry Roth (Adam Sandler) is a man afraid of commitment up until he meets the beautiful Lucy (Drew Barrymore).
They hit it off and Henry thinks he's finally found the girl of his dreams, until he discovers she has short-term memory loss and forgets him the next day.
---
A Star is Born
In this new take on the tragic love story, Bradley Cooper plays seasoned musician Jackson Maine, who discovers and falls in love with struggling artist Ally (Lady Gaga).
She has just about given up on her dream to make it big as a singer...until Jack coaxes her into the spotlight. But even as Ally's career takes off, the personal side of their relationship is breaking down, as Jack fights an ongoing battle with his own internal demons.
---
About Time
At the age of 21, Tim is told an incredible family secret by his father - that all the men in his family have the ability to travel in time. He can relive any moment in his life to try things differently until he gets them perfectly right.
---
Blue Valentine
An intimate, shattering portrait of a disintegrating marriage. Once passionately in love, Dean (Ryan Gosling) and Cindy (Michelle Williams) try to rekindle their lost feelings by spending a night in a hotel, remembering what brought them together six years earlier.
Moving between the present and the past courtship of these two, this award-winning movie captures both the promise of new romance and the brutal heartbreak that comes with fading love.
---
Crazy Rich Asians
The story follows New Yorker Rachel Chu (Constance Wu) as she accompanies her longtime boyfriend, Nick Young (Henry Golding), to his best friend's wedding in Singapore.
Excited about visiting Asia for the first time but nervous about meeting Nick's family, Rachel is unprepared to learn that Nick has neglected to mention a few key details about his life. Not only is he the scion of one of the country's wealthiest families, but also one of its most sought-after bachelors.
Being on Nick's arm puts a target on Rachel's back, with jealous socialites and, worse, Nick's own disapproving mother (Michelle Yeoh) taking aim.
---
Dirty Dancing
Spending the summer in a holiday camp with her family, Frances "Baby" Houseman falls in love with the camp's dance instructor Johnny Castle.
---
Failure to Launch
A thirty-something is still living with his parents until they hire an interventionist to help him graduate out of the house. That's when the fun begins.
---
Five Feet Apart
Stella Grant (Haley Lu Richardson) is every bit a seventeen-year-old: she's attached to her laptop and loves her best friends. But unlike most teenagers, she spends much of her time living in a hospital as a cystic fibrosis patient. Her life is full of routines, boundaries and self-control - all of which is put to the test when she meets an impossibly charming fellow CF patient named Will Newman (Cole Sprouse).
There's an instant flirtation, though restrictions dictate that they must maintain a safe distance between them. As their connection intensifies, so does the temptation to throw the rules out the window and embrace that attraction.
Further complicating matters is Will's potentially dangerous rebellion against his ongoing medical treatment. Stella gradually inspires Will to live life to the fullest, but can she ultimately save the person she loves when even a single touch is off-limits?
---
Love Actually
Follows the lives of eight very different couples in dealing with their love lives in various loosely interrelated tales all set during a frantic month before Christmas in London, England.
---
My Best Friend's Wedding
When a woman's long-time friend reveals he's engaged, she realizes she loves him herself and sets out to get him, with only days before the wedding.
---
Never Been Kissed
Many people wish they could go back to high school, knowing what they know as an adult; Josie Geller (Drew Barrymore) gets the chance to do just that in the comedy Never Been Kissed.
Josie is a 25-year-old copy editor at a newspaper in Chicago. But it's her youthful looks as much as her journalistic skills that finally win her a writing assignment: she's ordered to enrol in high school posing as a teenager for a story on the state of America's youth.
Trouble is, Josie was a hopeless nerd in high school (called "Josie Grossie" by her classmates); she had no idea of how to fit in with the cool kids, and she's hardly gotten any better at it in the seven years since graduation. While Josie makes fast friends with a bookish girl named Aldys (Leelee Sobieski), and also takes notice of her good-looking English teacher Mr Coulson (Michael Vartan), she realizes for the sake of her story she has to infiltrate the cool girls' clique, which will be impossible without someone to give her a crash course in hipness.
---
Notting Hill
Can a beautiful and internationally famous American actress find happiness with a frumpy British bookstore clerk? She can, at least for a while, it seems in Notting Hill.
William Thacker (Hugh Grant) is a bookseller at a shop in the Notting Hill district in West London, who shares a house with an eccentric Welsh friend, Spike (Rhys Ifans). One day, William is minding the store when in strolls Anna Scott (Julia Roberts), a lovely and well-known actress from the United States who is in London working on a film.
She buys a book from William, and she is polite and charming in the way a famous actress would be with a star-struck sales clerk. Their relationship would logically end there, if William didn't run out a few minutes later to buy some juice.
A romance slowly blooms as his friends and family (not to mention the world at large) wonder out loud what he's doing dating a movie star.
---
The Big Sick
The Big Sick is based on the real-life courtship between Pakistan-born comedian Kumail Nanjiani (Kumail Nanjiani) and grad student Emily Gordon (Zoe Kazan) who fall in love but struggle as their cultures clash. When Emily contracts a mysterious illness, Kumail finds himself forced to face her feisty parents, his family's expectations, and his true feelings.