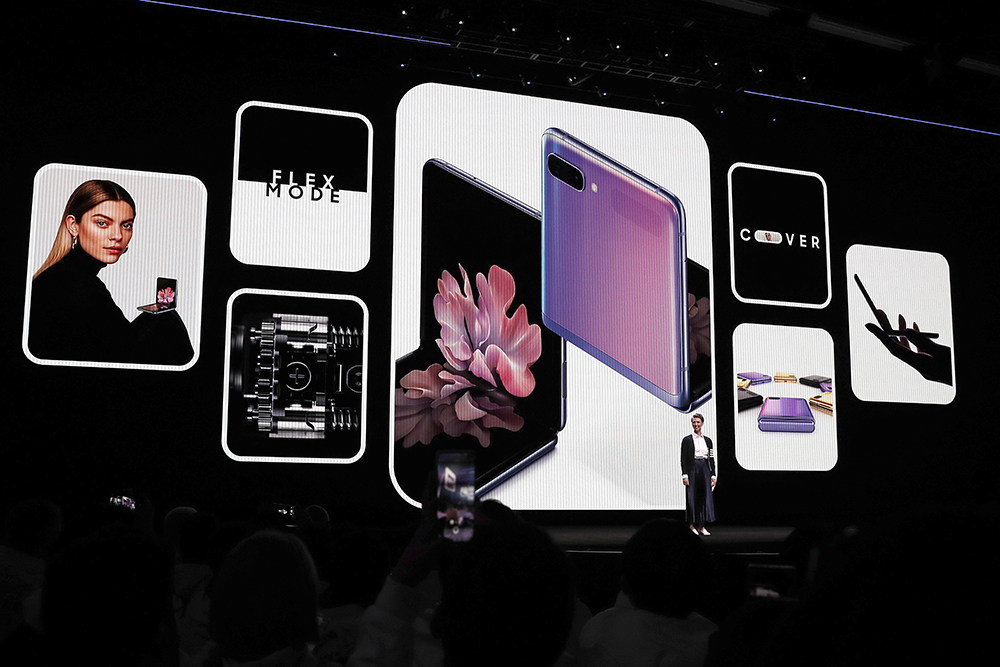 Rebecca Hirst, Head of UK Mobile Product Marketing for Samsung introduces the new Galaxy Z Flip smartphone during the Galaxy Unpacked 2020 event (EPA/John G. Mabanglo)
Bigger is better was the theme of Samsung's Unpacked 2020 event that was full of exciting announcements. However, the foldable Samsung Galaxy Z Flip took centre stage alongside other new additions to the Galaxy range the S20, S20 Plus, and S20 Ultra.
The all-new flip phone the Galaxy Z Flip is packed full of new and upgraded technology was the talk of the event thanks to its sophisticated and innovative styling.
The Z Flip breaks the laws of physics "yep we folded glass yes glass."
Built from the bottom up, you can control an application on the lower half of the phone while viewing it on the top, or even do two things at once!
According to the Samsung website, the Z Flip is a "full-screen phone that folds to fit in your pocket with revolutionary flexible glass, a camera made to stand on its own, and a dual battery that lasts all day."
The Samsung Galaxy Z Flip will be released in three colours mirror purple, mirror black and mirror gold.
One-of-a-kind form, impossible-to-ignore colors. #GalaxyZFlip #SamsungEvent
Learn more: https://t.co/OWlvhfGia7 pic.twitter.com/mUGLxgtyz4

— Samsung Mobile (@SamsungMobile) February 11, 2020
Meet the phone changing the shape of the future...the Galaxy Z Flip!
"It isn't just a smartphone it's a breakthrough with a design that stands alone it changes the shape of the future."